Real Estate Salesperson License » Test Preparation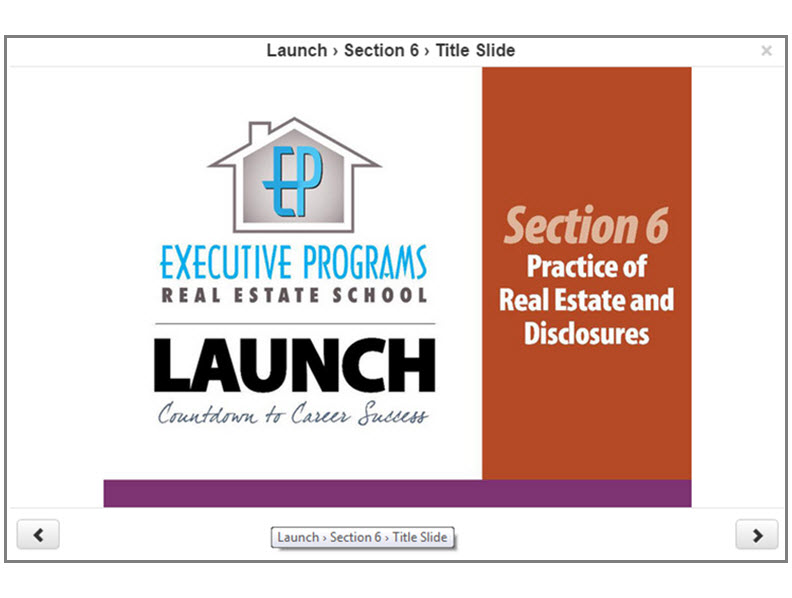 Executive Programs Real Estate School offers numerous state exam test preparation training tools. EP real estate test preparation programs include online practice tests, web based flash cards and audio crash courses.
Real Estate Test preparation programs can be purchased separately or in packages.
PREPARE TO PASS THE FIRST TIME WITH EASE!
FLASHPOINT - Flashpoint is a unique and innovative approach to mastering vital real estate concepts and test taking techniques. Slides in Flashpoint are designed to work similar to an online "flash card" system, proven to enhance the student's comprehension. Flashpoint combines two approaches to passing. Both online flash card approaches are tablet and mobile device compatible.
LAUNCH - provides an in-depth overview of the 7 topics featured in the state examination. EP Real Estate School brings the highest quality, professionally designed content and graphics, delivered in an engaging and highly effective power slide format. 700 slides introduce the student to the real estate industry and techniques needed to pass the state test.
PASSMASTER - offers slides with 700 questions, answers and explanations which help Students train to both memorize and learn why questions have specific answers. Passing the state exam requires repetition, recognition and understanding. Passmaster provides all 3 through this well designed and professionally written real estate test preparation flash card system.
TARGET TEST PREP - features 1200 interactive simulated real estate practice questions organized into the 7 real estate categories of the California real estate sales and/or real estate broker license examination. Target Test Prep utilizes color retention reinforcement to help you master each practice question. In addition, your score will update with every 5 questions completed. Upon completion of each category, your score will reflect your strength or weakness. The Target Test Prep will track your score and allow you to retake each category indefinitely. Each time, you will be able to compare scores to follow your progress. In addition, students can discard questions answered correctly and repeat questions answered incorrectly to focus on areas of weakness. The TTP is a highly effective real estate test preparation training tool with a proven track record. Target Test Prep is tablet and mobile device compatible.

SUREPASS - is designed for the student who wants to know why! This interactive real estate test preparation program delivers 700 simulated practice questions with answers and explanations. This state test preparation training system will help you practice online and understand why questions come with certain answers. You will develop comfort and competence. Surepass is tablet and mobile device compatible.
Disclaimer: Executive Programs Real Estate School refrains from any unauthorized reproduction of any portion of the actual Department of Real Estate license examinations. No materials were improperly removed from any actual license examination. All instructional materials are written and copyrighted by, and are the property of Executive Programs Real Estate School, and are used for the sole purpose of education and training.