Real Estate Salesperson License » Course Descriptions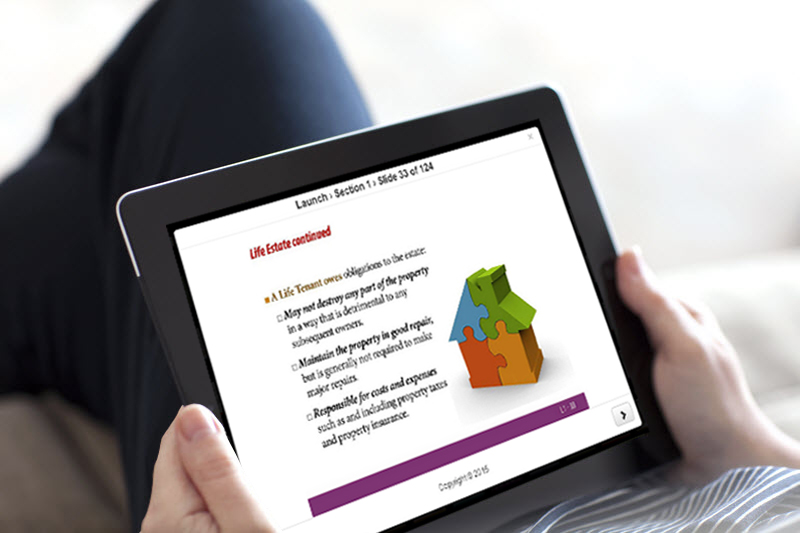 Executive Programs Real Estate School has helped thousands of students qualify, pass the state exam and find lucrative career positions with many dynamic companies throughout California. EP courses are simple and easy to complete. EP Real Estate School offers a wide variety of online and live state test preparation options.
As a licensed California Real Estate Agent, you will qualify to earn substantial income as a Real Estate Professional. Positions are available throughout California. Executive Programs Real Estate School provides a FREE placement assistance service to anyone seeking a position in this exciting field. This dynamic industry can provide the assertive and well-organized individual an exciting and rewarding career opportunity.
3 UNIT ONLINE REAL ESTATE PRINCIPLES COURSE
Real Estate Principles provides a comprehensive and systematic introduction to the sales methods and practices currently used in the California real estate industry. Offering fundamentally sound working knowledge, this subject is an ideal course for license candidates, real estate professionals and mortgage representative trainees.
3 UNIT ONLINE REAL ESTATE PRACTICE COURSE
The Real Estate Practice course is designed as a practical guide to the basic, everyday activities of the real estate broker and real estate sales associate from setting up the office, electing and training agents, obtaining and advertising listings, through closing the transactions. Covering all aspects of the field, it is an ideal working course for the real estate professional.
3 UNIT ONLINE LEGAL ASPECTS OF REAL ESTATE COURSE
No other subject is as important to both the real estate practitioner and layman as the Legal Aspects of Real Estate. Methods of property ownership, elements of contracts, marketability of title, complications of easements, types of encumbrances, essentials of a valid escrow, landlord/tenant law, effects of taxation and assessments, and agency relationships are but a few of the many subjects covered in depth.
CHECK OUT EXECUTIVE PROGRAMS STATE TEST PREP PROGRAMS!